Many people are starting to understand the importance of Amazon reviews. The number of reviews, and mainly, of course, those positive reviews, can directly influence your product sales and rankings. But the truth is, most people have no idea how best to go about this.
This article introduces 11 approaches that can help get more Amazon reviews. Each of them is tried and tested.
This is probably the most complete 101 for how to get reviews on Amazon. Now let's get down to business.
Method 1:Amazon Review Trader websites
This is actually a very common channel. First, you need to register on a deals website like Slickdeals, or similar deals website.
You have to pay some fees, but this usually has a higher success rate than posting on online forums, and takes less time.
The risk to this method is that these deals websites are usually prohibited by Amazon, and many websites require you to be a member or push their tools first before you can post your deals.
Except that, the process is relatively complicated but the cost is relatively low.
If you can manage to create interest in your products, you will likely find this to be a good method of gaining reviews, but if your product doesn't generate much interest, it may end up being a waste of time.
Here I would like to recommend you an effective website called Cashbackbase. It is a new amazon deals website and very popular among Amazon sellers.
Method 2:Build an email list
This is a long-term commitment, but can be very useful.
It can be hard when you first start out, but once you have collected enough email addresses from your first product, this paves the way for your second, third, and so on.
You can then send emails to everyone on the list, using ads you have created to generate traffic for your landing page or independent websites, and convincing users to subscribe to your services in exchange for discounts, among other things.
For this to be truly effective of course, you will need to invest in a landing page and independent website.
The method can also be tweaked to attract fans through Instagram, Facebook, and YouTube by hosting promotional campaigns to collect email addresses, but doing this can also take up a lot of your time.
Method 3:Using Tools to collect reviewers
Contacting reviewers directly can also be fruitful, and so this is method 3.
Collecting an email list may cost a lot of time and money, but it is probably the safest and the most effective way of gaining positive reviews for your products, as the user group you are targeting is precise, and the risk to your account is low. So, it's a good idea to find ways to get your target users' email addresses.
This involves first finding product pages where target users once purchased products and left reviews, then collecting their email addresses and emailing them.
For instance, my target users might be sports-loving women, so I can visit some amazon stores selling yoga mats or other similar sports equipment to find email addresses.
However, as easy as it sounds, doing so manually is no easy task. Thankfully, there are great tools to help you with this, such as AMZDiscover.
Check the tutorial below to learn about how to collect emails from AMZDiscover: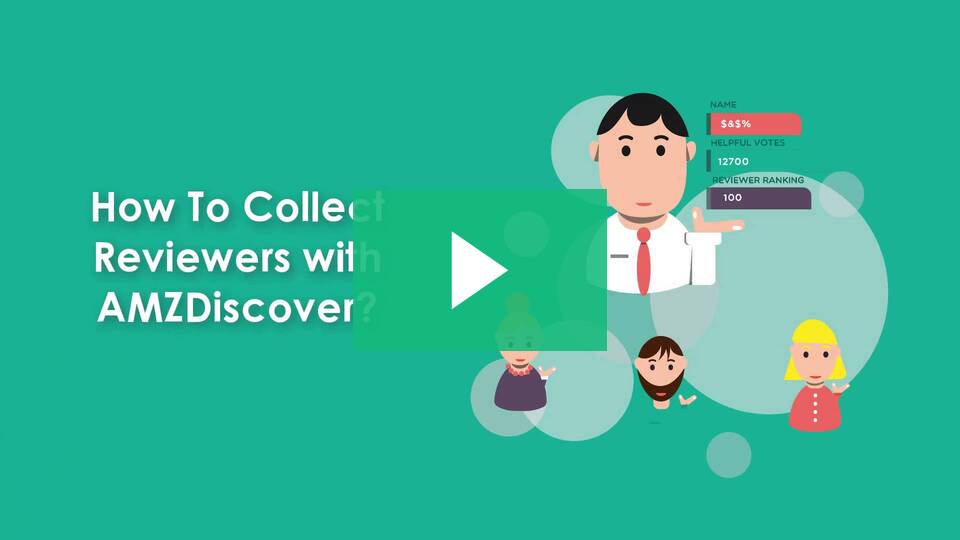 Using a tool can make it very easy to target specific user groups, and retrieve email addresses that can then be converted into positive reviews for your products.
This is less risky and more efficient than going solo.
Verdict:
This will cost you less time and money than other methods, and has a lower risk. Highly recommended.
Method 4: Facebook groups
The trick is to join Facebook reviewer groups. These groups are full of sellers and reviewers. You can post products and offers in these groups.
Most reviewers will require you to give them products for free or with a pretty big discount in order to get them interested.
Looking for reviewers like this is always a good method, and you can get reviews pretty quickly.
So there are two ways to do this; the first way is to post a message by yourself in the hope that someone will be interested straight away, and the second is to request the admin of that Facebook page to promote your message and pay him or her in return.
Of course, looking for reviewers in Facebook groups also has its risks.
It's likely some resellers or competitors are stalking these groups for new product ideas, and some people might even take your free product and run, without posting a review at all.
So try to think about the risk and reward ratio. Even with the risks though, it's probably the cheapest way to gain a few good reviews, and if you have a low budget and no connections, it is probably something you shouldn't ignore.
Verdict:
This method is recommended for those who have less connections and a tighter budget. This is what is known as a medium risk strategy however, as you have to be careful what information you share.
You may also like : Top 100 Facebook Groups List For Amazon Reviews
Method 5:Make use of all kinds of forums
There are large crowds of people that love to gather on various online forums related to their interests. Reddit is a typical example of this.
There are many Subreddits within Reddit itself.
These Subreddits are user-created areas of interest with specific topics of conversation.
This means you can post messages in Subreddits relating to your products to attract potential partners.
There are some things you need to know before jumping right in, however.
The trick is that you need to get really involved in the forums for a few weeks or months before you post anything relating to reviews.
For example, if your product is some sort of fitness equipment, during the product development phase, you could talk about how your product is developed and what features it has on fitness and sports-related Subreddits or sub-forums.
More importantly, you can take this opportunity to ask other users for help and advice.
By doing this, you can build a good rapport with them. After users are familiar with you, it's easier to send your products to them for free or offer a discount in exchange of their reviews after your product is released.
The problem with this method is that it's not always successful and can sometimes take a long time to achieve the best results.
But, the risks are lower when compared to the previous method we mentioned involving Facebook groups.
Verdict:
You need to spend a lot of time interacting with people, but after your product is more well-known and released, you can send them to other users or give discounts in exchange for reviews.
Method 6: Review services
The official review service is Amazon Vine. Currently, Amazon offers this program to sellers to get Vine reviews for free.
Those Vine Voices members are strictly selected by Amazon and reviews left by them can be positive or negative. The values of their opinions weigh much more than normal reviews.
Also, there are many professional review service agencies, and you can, of course, outsource to them.
Most agencies just ask that you submit your product links or URLs to them, and they will handle the rest.
You can buy as many reviews as you need, and don't really have to worry about a thing.
Generally speaking, this method will help you obtain the largest number of reviews while being the least time-consuming.
It also probably poses the lowest risk to your accounts as well. Of course, the price is comparatively high, and this needs to be considered as well.
Verdict:
This can save you time, however it will cost you a lot.
Method 7: Make the most of customer services
Through the Amazon API, you can access third-party tools to send automatic emails. This offers you the chance to capitalize on every purchase, and convince every buyer to leave a review.
Most sellers don't pay attention to this process, but it's not as daunting as some may initially think.
Generally, automatic emails are split into three. The first is a shipment reminder email, the second is a delivery reminder email, and the third email is to offer your regards after the product is received.
In the third mail, however, you can also politely ask buyers for feedback or reviews. This has the potential to turn any sale into a review.
Utilizing this can get you more reviews and lower the chance of customers leaving negative reviews.
By doing this, you can use AMZFinder, the powerful request email automation tool to help you send out review request emails to gain more reviews.
Besides, it can also monitor your reviews, and give you alerts on handling negative feedback.
Method 8: Use Amazon "Request a Review" Button
Amazon launched a new feature to help sellers request reviews for orders. It is called the "Request a Review" button.
You can find this button while viewing each order detail? So, what does it mean for sellers?
Amazon is allowing sellers to request reviews from buyers, but this has to be done under its rule.
You can complete it by clicking the button directly., and Amazon sends out the emails for you with its pre-written email template.
This button can only be used once! And it only available between 4 to 30 days after order delivery dates.
Verdict:
It totally complies with Amazon review guidelines and is recommended.
But you need to spend a lot of time to click this button to send emails one by one and there is no more follow-up emails afterwards.
Read more: Request a Review: How to Get Verified Reviews on Amazon in 2021?
Method 9: Use a "Thank You" Card
This can be an effective and safe way to use inserts to ask for reviews from customers, but there should be more than a review request on the card.
You can offer some tips on using the items, or lead the customers to register a warranty extension for their products to get their emails on a landing page or your own website.
After that, you can contact them with a series of follow-up emails to remind them to leave a review.
But, you need to make sure your package insert is compliant with Amazon policies before shipping your products. Try not to ask for a review directly.
Verdict:
It can be a good way to ask for reviews and collecting customers' email addresses, so it is recommended.
You need to pay attention to Amaon packaging policies before doing so.

Method 10: Ask your friends and family for help
Simply ask your friends and family to write reviews for you. Easy right?
I mean, they must, of course, be willing to do this, but I'm sure most will help out in some way.
Many people are doing this. Having said this, I can't really recommend this method.
Why? Because of the risk to your account.
Amazon guidelines clearly state that family members or close friends of a person, group, or company selling on Amazon may not write customer reviews for those they are familiar with.
The method works, but it violates Amazon's policy.
Amazon knows your friends and families will definitely give you positive reviews, so they're obviously not going to allow it to happen wherever possible.
Verdict:
It's risky and not recommended.
Method 11: Buy reviews from freelancers
In the good old days, there were quite a few sellers buying reviews through freelancer platforms like Fiverr.
Obviously, this was very cost-effective because it was only 5 dollars for a review, but Amazon soon put a halt to this and now it's no longer possible.
So the reason for mentioning this here is actually to let you all know that this method will not work anymore.
So, if anyone suggests this method to you, you should probably just ignore them. It's very risky and has a low chance of success. Therefore, not recommend at all.